Hospitals should be a place of unquestionable sanitation and cleanliness. When it comes to both appearance and medical functionality, there can be no missteps in the cleaning process for all linens in your hospital. Some linens you'll want to pay special attention to in a hospital when cleaning scrubs, bedsheets, curtains, blankets, table clothes, doctors' coats, and other staff uniforms.
Hospitals sometimes struggle with the pressure and high expectations of making sure everything in their facilities are in pristine condition. Maintaining high-quality standards and staying compliant with government regulations, such as OSHA's Bloodborne Pathogens Standard, is top priority for all medical facilities. But keep in mind that adhering to these standards and regulation do require a considerable amount of time, effort, efficiencies, and the right partners.
So if you want to save time (time is money after all), increase productivity and efficiency, you will need great commercial laundry services. And that's where Woodfield laundry services come in. A great quality linen service is not only a good idea but a necessary investment for your business.
Below are several reasons why Woodfield Laundry Services is essential:
No fear you are in the clean!
Hospitals can be a scary place for all parties involved. The last thing you want your patients or their family members to worry about is the cleanliness of your hospital. Hospitals should be safe spaces. And keeping your facility a worry-free zone requires meticulous care.
An already nervous patient walking into the room to find dirty bed sheets or a nurse with stained scrubs would be alarmed. Woodfield's commercial laundry service will help eliminate this by ensuring all linens are sanitized and cleaned with the utmost care.
We provide timely, convenient, and guaranteed sanitary service. And to assure our customers are met with the best of care, the Woodfield team takes extreme cautionary measures such as carefully sourced water that is triple filtered before soaking all linens. We then use a 4-step sanitation process to ensure the machines themselves are squeaky clean.
The Woodfield 4-step process takes each machine through several cycles of white vinegar in boiling water, then disinfectant is sprayed in each of the machines chambers, eliminating germs and unwanted bacteria, meaning you get the cleanest and sanitized linens.
Working with the right commercial laundry services, you can trust that your hospital (and all the linens in it) are in great hands. And you can rest assured knowing that our team does everything we can to avoid mishaps and provide you with quality of service you deserve.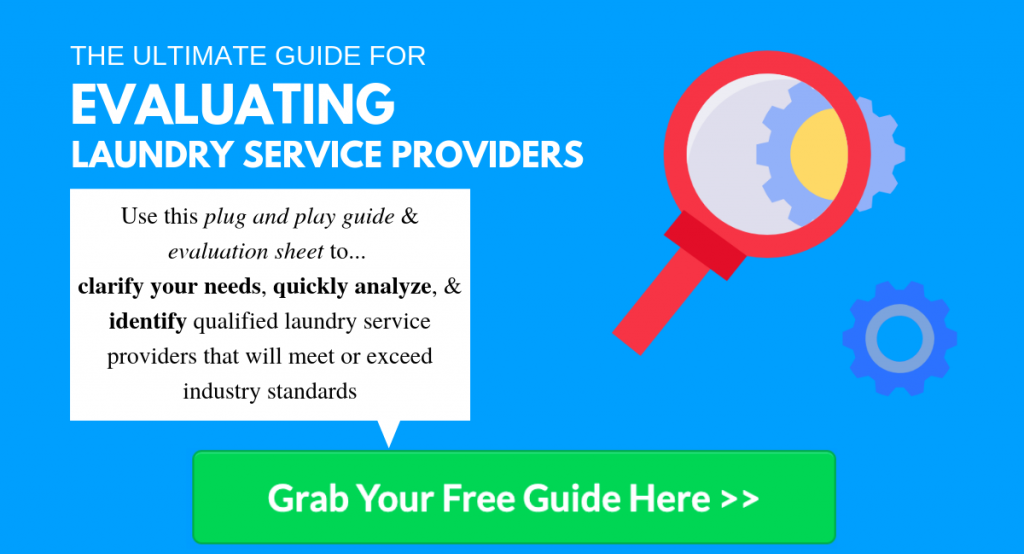 Woodfield keeps you organized & eliminates stress
Doctors and nurses have more than enough to think about without having to worry about their uniforms being clean and ready. Removing the tedious task of getting their uniforms washed and sanitized to the highest standard leaves more space in medical care practitioners' minds to focus on what matters most, taking care of their patients.
Woodfield's goal is to keep your staff clean and organized. With our well-formulated tagging system, you can sleep easy knowing that your hospital's staff uniforms won't end up in a lawyer's briefcase. We know misplacing garments and mixing clothes have a tendency of happening with laundry services, which is why all of our customers' items are tracked from start to finish. Woodfield uses advanced technology such as our barcode tagging system complemented by video surveillance. This systems closes the gap for mistakes and errors and ensures all of our customers' garments and linens will be returned not only cleaned but also organized. There is a lot of potential for complication in a hospital, the least we can do is help keep your linen laundry service simple.
Focus on the healing, we'll take care of the cleaning
As you know, hospitals never have a dull moment. People are constantly going in and out, patients are in need of constant attention and care, and medical care practitioners need a clean and clear space to ensure they are offering optimal treatment. Using a commercial laundry service, like Woodfield, leaves not only peace of mind for operations but also creates more space to be filled with patient facilities and medical equipment instead of filling valuable onsite space with laundry machines. More space equates to more patients, and more patients mean that people within the community will be getting the treatment that they need.
Hiring Woodfield would eliminate costs on hiring and training non-medical staff to take care of this sometimes, mundane yet extremely crucial task. Moreover, outsourcing your laundry to a commercial cleaning service will save your hospital time, energy, and money — making it an effective and smart investment. With skyrocketing costs, hospitals need to save money while eliminating risk. Our customers no longer have to spend their funds on washing and drying machines, extra water, electricity bills, or cleaning supplies. Save some of those costs with Woodfield's commercial laundry services and leave the washing to the experts.
Rules and regulations
A hospital is a place of guidelines. Regulations are in place for the safety of their patients and staff alike. When these regulations are not followed, specifically when dealing with medical facilities, it could potentially be fatal. For example, in 2008 there was a traumatic occurrence in the Children's Hospital of New Orleans when a linen laundry service company provided less than adequately sanitized linens. The linens that were supposed to be "cleaned" were in fact infected with a deadly fungus resulting in the death of five children. This is a horrific occurrence that you would never want your hospital to deal with. And it's something Woodfield customers never need to worry about. We take quality control standards very seriously in our facilities, and each garment is carefully inspected throughout the cleaning process by trained professionals to make sure each and every one is compliant with our sanitation standards.
In fact, we make sure to adhere to OSHA's Bloodborne Pathogens Standard meaning every item in our facility is handled to the highest standard and with care. Woodfield's services are performed by our expertly trained staff. And our team ensures safety, delivery and quality service every time. All of our items are sealed in high-density polyethylene bags meaning the linens stay clean, and the germs and debris stay OUT.
Why choose us
Here at Woodfield, we understand the sensitive nature of a hospital's medical environment. Hospitals need to be an environment that ensures tranquility and confidence for both their staff and patients. One big way to deliver on this promise and expectation is by guaranteeing the cleanliness and sanitation of their environment. Seeing their space clean, up to code, and their medical team in sparkling clean uniforms is simply one less thing for patients to have to question.
We also understand people in the medical field have a lot on their plate, working long arduous hours. We want to help keep medical professionals interested in their patients' well-being and focused on saving their lives. When that is the kind of work and service you are providing, one of the last things you should have to worry about is laundry. You focus on the patients, and we will focus on keeping all the linens for your medical facility organized, clean and santized. That we can promise.
We are happy to answer any questions you may have!
For more information on our commercial laundry services and how we can help you and your facility run smoother, you can contact us at 516.418.2112 ext 0
OR
Click to get a free quote today.